Residential Lock Opening Aurora, CO - Baldwin Locksmith Store

Locking yourself out of your door or losing a key while commuting is very common. You might have damaged the key trying to open the lock in a hurry and half the key is now stuck in the key hole. Sometimes, when you are moving into a new home you will feel that you need to change the locks just to be extra sure of your security. All these situations that are mentioned here involve your place of residence and to deal with these situations you need a reliable residential locksmith. Baldwin Locksmith Store has a long list of satisfied clients who have approached us for their residential lock & locksmith needs.
No matter where we are in the world, we feel the safest when we are at our home. As a homeowner or renter, it is of utmost importance to make sure that our home is safe in all possible situations. Unfortunately, today the threats that we face are not just limited to strangers outside our homes but can be from someone we know and least expect from. We can never be sure and the best option is to secure our property and belongings. We, at Baldwin Locksmith Store, understand that and can provide you with the best solutions to safeguard your property. You can consult us for advice on your lock & locksmith needs and we will be glad to help you out in making your homes more secure.
Our experts not only get you inside your house but by accessing your locks can make you a new duplicate key on the spot. We make sure when a key is stuck in a keyhole it does not damage the lock when we retrieve it. We will keep your locks intact and carefully remove the broken key. The privacy and peace of our local community are of utmost importance to us and we provide residential locksmith services that are best in class.
Often, when you build a new house the contractors install sub - standard locks to cut costs that may not be able to secure you from possible threats. To solve this problem and avoid your security from being compromised you can use the services of our experts either at the time when your house is being built or to install fresh locks when you require. Our professional locksmiths are the best in the business and will get the job done in a perfect manner the very first time
Our range of services covers a wide variety, here's a quick look into what we offer: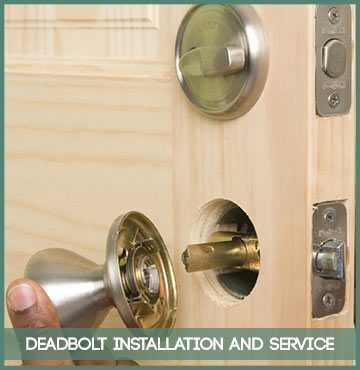 Unmatched response time
24/7 availability
Custom Residential Locksmith solutions
Swift residential lockouts assistance
Pop a lock service
Repair of broken locks
Expert home security evaluation
Advanced lock systems implementation
Garage door installation
Up gradation & repair of garage door locks
Emergency Eviction Service
Basic key cutting and duplication services
Standard residential lock installation
Master key system setup
Door repair
Lock change and replacement
Peephole installation
Deadbolt, push bars installation
And more
We employ only the best people in the industry who are fully capable and understand your needs. They can handle very basic tasks like the emergency opening of doors to providing you with key insights that will make your homes make secure. Your homes will be more secure through our expertise and knowledge as we have vast experience in this field.
Get in touch with us and we will provide you with a risk assessment of your home. We will point out all the vulnerable points that are currently present in your house and suggest the possible lock & locksmith solutions to overcome those vulnerabilities.
Call us anytime on 303-481-7924 and we will assign a professional locksmith for your assistance.